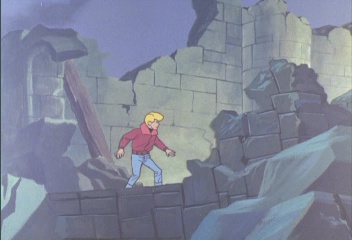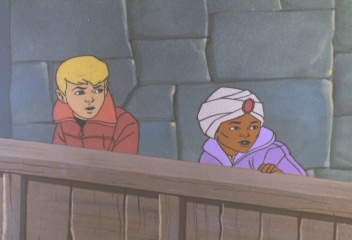 In this episode, the leader of the Yeti-disguised bad guys shoots at Jonny from a stone staircase. Jonny fires arrows to burst oil bags above him, causing the leader to fall down the steps and plummet off the mountain to his death. The DVD is missing Jonny's joke as the man rolls toward him, "Uh-oh. Here comes the Oriental Express." The line has also been taken out of the subtitles.
The section as it was originally heard:
MonasteryMissingOrientalExpress.mp3
(271K MP3, 11 seconds)
The DVD also immortalizes a puzzling insert into this story that also appears in the early 1990s VHS release of this title. On these versions, right before the Yeti leader unmasks himself, we hear a Bandit growl, an unidentified sound effect, and Jonny says, "Quiet, boy." This didn't exist on the original broadcast. The insertion also pushes Hadji's line, "Hey, what's he doing?" back several seconds, resulting in his lip moving but no sound coming out.
This is what you hear on the DVD and VHS:
MonasteryExtraDialog.mp3
(206K MP3, 8 seconds)
Here's the original version:
MonasteryComparisonToExtraDialog.mp3
(194K MP3, 8 seconds)
Both clips start with Hadji's line, "Carrying a lamp?," and end with the sound of the Yeti removing his mask.