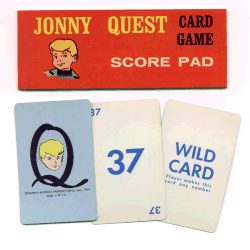 Pieces from the
1965 Jonny Quest Card Game
"A Small Matter of Pygmies" debuted Dec. 11, 1964, at 7:30 p.m. on ABC.
What's New?
Recent changes.

Dec. 1, 2013
General Info
All about the classic 1964 TV show.
The Lists
Places, bad guys, monsters, and more!
Memorabilia
Look at classic JQ memorabilia
Art
Production sketches, and Misc. images
Fan Submissions
A collection of contributions by fans
Media
A collection of media files
Fan Favorites
The favorite episodes as picked by our visitors.
The Real Adventures
The 1990's re-incarnation of Jonny Quest
Welcome! You are visitor